Home| About Us | Rentals| Presentations | Video Production | Sales| Installation | Contact Us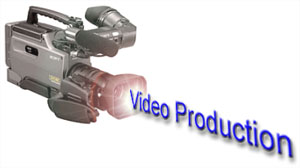 AVC offers quality digital video production services.

Too often personnel are unavailable to attend required training due to scheduling conflicts, illness, vacation, cycles in hiring, etc. - and sometimes training cannot be rescheduled without extensive delay and at considerable additional cost. The solution may be - a training video. A well-produced training video serves as valuable documentation of the training that was held and is available repeatedly whenever you need it - for use by new-hires, or by those that missed the initial training session.

Retirement parties, trade shows, product or service roll-outs, facility or vessel open-house events, shareholder or annual meetings, promotional videos, safety and security classes – there are so many uses for quality video that is professionally recorded and edited. Let AVC produce your message - call today for information on how video can be used to benefit your business!
We duplicate CD, DVD and other media formats and can produce mpeg, wmv and computer files (for use on the Company intranet or internet website). We also convert from and to US or foreign video formats (PAL, SECAM, NTSC).

AVC can also produce a photo to video montage (photos set to music, narration, etc. ) and rent the HD plasma presentation monitors or LCD video projection and sound equipment to display them!

AVC Audio Visual Center
P.O. Box 131943
Houston, TX 77219

Call 281-996-7777

Fax: 281-996-7747
Toll Free: 800-343-7747
Serving the greater Houston area since 1985!
Home| About Us | Rentals| Presentations | Video Production | Sales| Installation | Contact Us