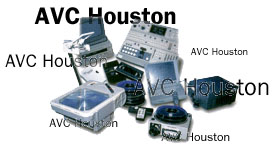 AVC Audio Visual Center serves the greater Houston area with rentals of high resolution LCD and DLP video and data projectors and projection screens. We also rent slide, overhead and film projectors, PA and sound systems, microphones (hand held, lavaliere, headset, head worn, wired and wireless), TV's, video monitors, digital camcorders, tripods, VCR's, DVD players, AV carts, laser pointers, flip charts, Elmo presenters, televisions, HDTV LCD and plasma HD TV displays and much more.
AVC will assist you in developing the best audio/visual solution for your conference, sales meeting, training seminar, convention, product promotion, etc. We can also assist in developing your presentation and help in producing CD-ROM, DVD, power point and other materials to support and promote your message.
Assisting you in effectively presenting your ideas is our passion. Whether you need a complete audio visual package, a sound system or just an extra microphone, our goal is to recommend the equipment configuration to best reach your audience and stay within your budget.
We offer delivery and equipment set up throughout the greater Houston and Galveston area for your convenience.